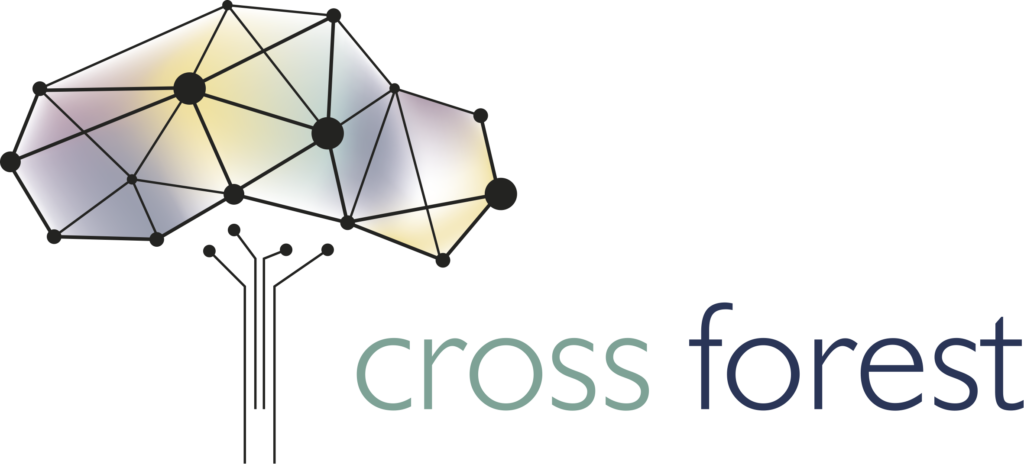 CROSS Harmonization & HPC modelization of FOREST Datasets
Cross-Forest Project Closure Event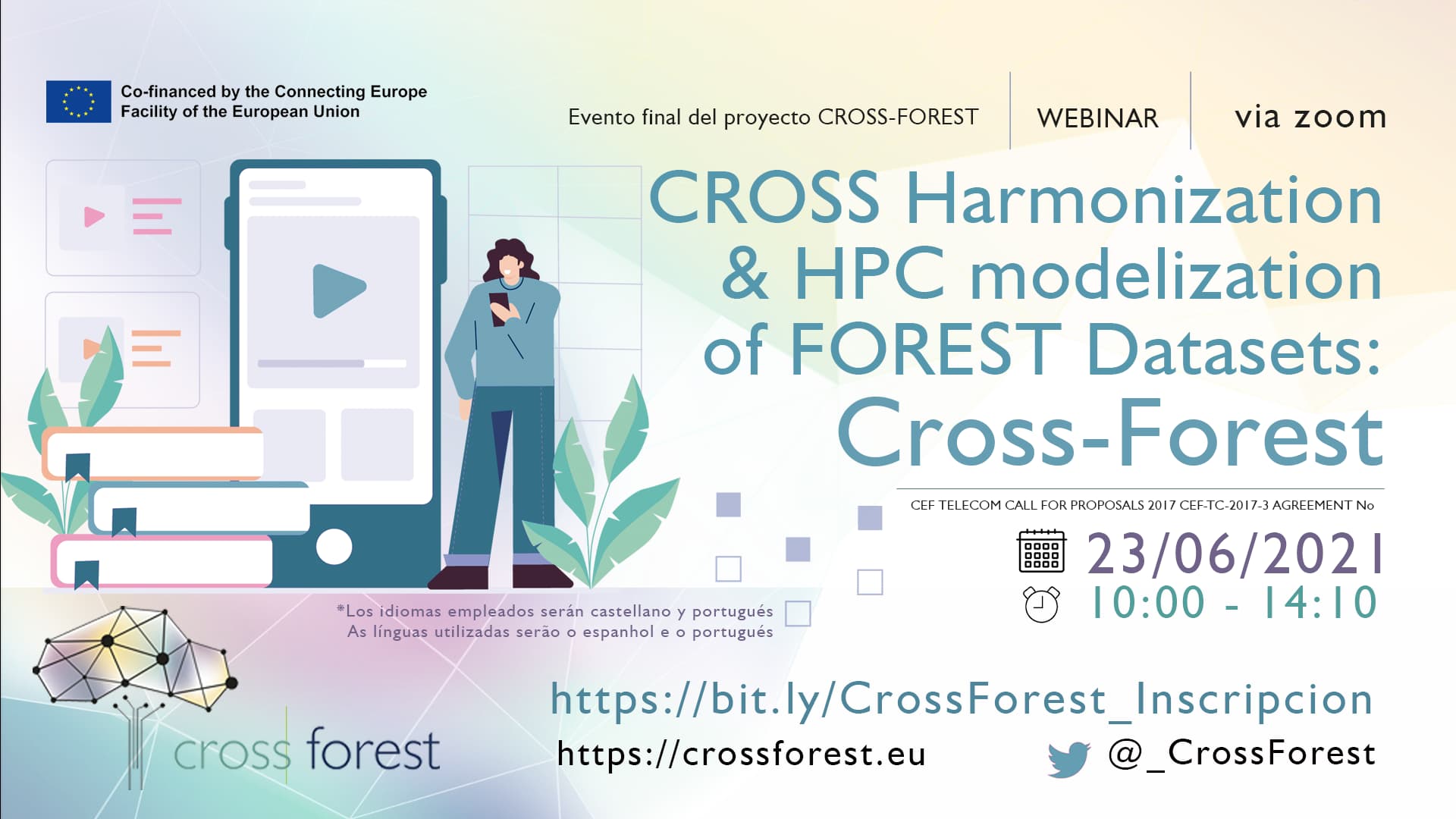 CROSS-FOREST Project Closure Event




AGENDA


Date: 23/06/2021
Horario en Portugal: 9:00-13:10

Horario en España: 10:00-14:10
10:00-10:10

Opening of the event and welcome
Guillermo Fernández Centeno (Subdirector General de Política Forestal y Lucha contra la Desertificación – MITECO)
Valentín Gómez Mampaso (Subdirector de Innovación y Desarrollo de Servicios – Grupo Tragsa)

10:10-10:20

Cross-Forest introduction & Presentation of the agenda
Asunción Roldán Zamarrón (Subdirección de Innovación y DS – Grupo Tragsa)

10:20-10:35
Strategy for Environmental Open Data publication in Spain
Elena Robla González (Jefa de Área de Estadística e Inventario – MITECO)
10:35-10:50

Portuguese National Spatial Data Infrastructure (SNIG) and the open data approach
Paulo Patrício (Diretor de Serviços de Geodesia, Cartografia e Informação Geográfica – DGT)

10:50-11:15

Datasets published as Linked Open Data (LOD) and ontologies in Cross-Forest


– Published datasets from Portugal and Spain, Iberian datasets
Belén Fierro García and Marta Lerner Cuzzi (Gerencia de Desarrollo Rural y Política Forestal – Grupo Tragsa)
– What is LOD? Ontology development and data transformation
Telmo Jurado Riera (Gerencia SIG – Grupo Tragsa) and David Portolés Rodríguez
11:15-11:40
Tools for data exploration & live demonstration
Guillermo Vega Gorgojo (Universidad de Valladolid – GSIC)
11:40-11:50

Coffee break

11:45-12:10

Use of HPC (High Performance Computing) resources in Cross-Forest


Jesús Lorenzana Campillo (Supercomputación Castilla y León – SCAYLE)
12:10-12:50

Simulations based on published data


– Pilot CAMBrIc – CAlidad de la Madera en Bosques mIxtos
Cristóbal Ordóñez Alonso and Felipe Bravo Oviedo (Universidad de Valladolid – iuFOR)
– Pilot FRAME – Forest fiRes Advanced ModElization
Felipe Aguirre Briones and Víctor Gonzalvo Morales (Gerencia de Incendios y Emergencias – Grupo Tragsa)
12:50-13:00
Final remarks about Cross-Forest
Alexandra Fonseca and Ana Luisa Gomes (Direção-Geral do Território – DGT)
13:00-14:00

Roundtable: "Next steps in LOD publication and exploitation in the forestry domain"


Guillermo Fdez-Centeno (S.G. de Política Forestal y Lucha contra la Desertificación – MITECO)
Roberto Rodríguez Álvarez (Subdirector de Ayudas Directas – FEGA)
Blanca Ruiz Franco (Jefa de Área de Banco de Datos de la Naturaleza – MITECO)
Óscar Corcho García (Catedrático en el Depto. de Inteligencia Artificial – UPM)
Nur Algeet Abarquero (Coordinadora del equipo de teledetección – Agresta S.Coop.)
Moderator: Ramón Baiget (Jefe de Depto. de SIG – Gerencia SIG, Grupo Tragsa)


Open discussion

14:00-14:10

Closing of the event


Guillermo Fernández Centeno (Subdirector General de Política Forestal y Lucha contra la Desertificación – MITECO)
Paloma López-Izquierdo Botín (Directora de Coordinación y Acciones Institucionales – Grupo Tragsa)
Objetive
The objective of this event is to present the final results of the Cross-Forest project, the databases published as Linked Open Data (LOD) and products developed, in addition to informing the different stakeholders about the benefits and possibilities offered by using LOD and high performance computing resources (HPC). It also intends to offer a perspective of "Next steps in LOD publication and exploitation in the forestry domain", through the opinion of a multidisciplinary panel taking part in the roundtable.
Objetivo (Castellano)
El objetivo de este evento es presentar los resultados finales del proyecto Cross-Forest, las bases de datos publicadas como Linked Open Data (LOD) y los productos desarrollados, además de informar a los interesados sobre los beneficios y posibilidades que ofrece el uso de LOD y los recursos informáticos de alto rendimiento (HPC). Se pretende también ofrecer una perspectiva de "Próximos pasos en la publicación y explotación de LOD en el sector forestal", a través de la opinión de un panel multidisciplinar que participa en la mesa redonda.
Objetivo (Português)
O objetivo deste evento é apresentar os resultados finais do projeto Cross-Forest, as bases de dados publicadas como Linked Open Data (LOD) e os produtos desenvolvidos, bem como informar os interessados sobre os benefícios e possibilidades oferecidas pela utilização de LOD e recursos de Computação de Alto Desempenho (HPC). Pretende também oferecer uma perspetiva sobre os "Próximos passos na publicação e exploração de LOD no domínio florestal", através das opiniões de um painel multidisciplinar que participa na mesa redonda.